We provide high-quality deck cleaning services. You will be amazed by how new and clean your deck, patio, or fence will look after we are done cleaning it!
A natural wood deck is a gorgeous addition to any home. But unlike some alternative materials like composites, wood requires a bit more care and attention to ensure it looks great and lasts for years to come.
Here are a few maintenance tips from Gateway Home Services that you should follow to preserve your natural wood deck.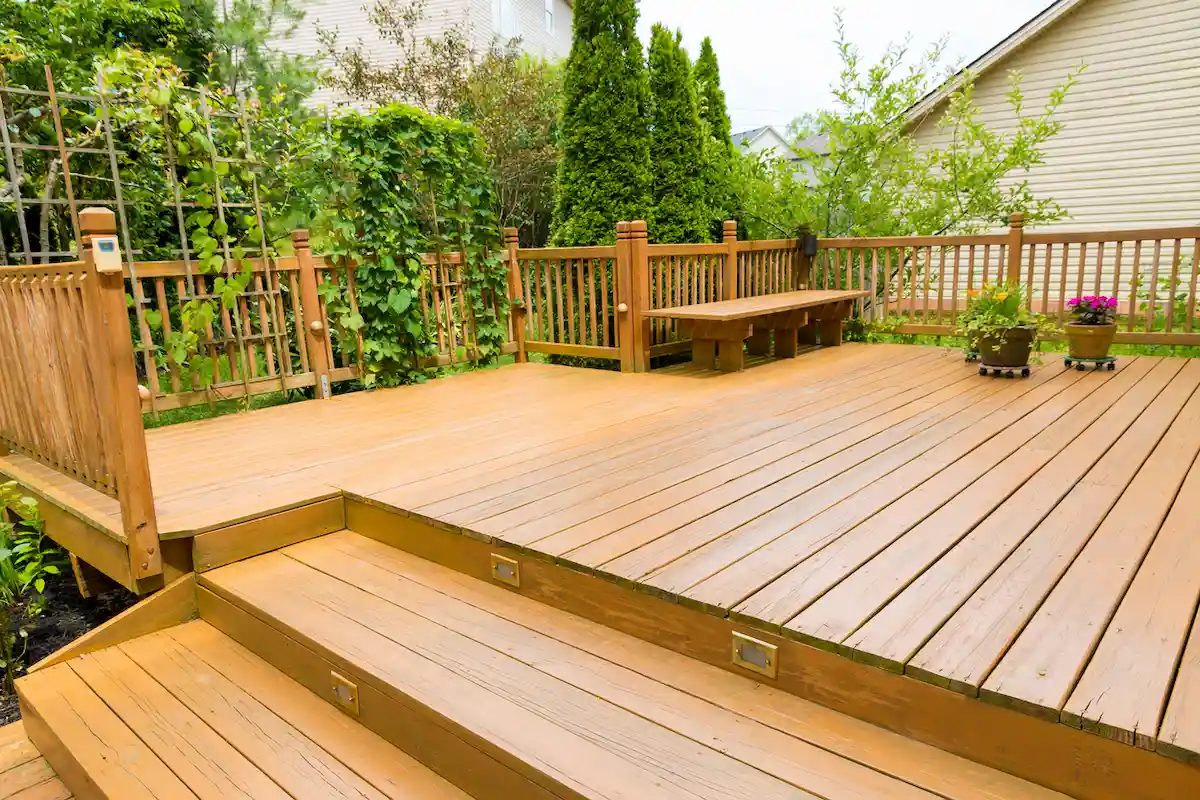 Sweep the Deck Every 2-4 Weeks to Remove Debris & Inspect It
It's a good idea to sweep your deck every few weeks, particularly during the spring and the fall, when a lot of debris may fall onto the deck from various trees, plants, and other sources.
This also gives you a good time to inspect the deck. Among others, you should look for things like:
Pulled-up, exposed, or rusted nails
Rotted or damaged boards
Loose railing sections
Routine cleaning helps you identify any areas that may need repairs – prolonging the overall lifespan of your deck.
Have Your Deck Power Washed
A pressure washing service is delivered by a machine that expels a high-powered jet stream of water that is strong enough to remove any type of grit and dirt that has built up over time. While you may be tempted to rent a power-washer and do it yourself, this often ends up being a costly and frustrating endeavor. We can provide a high-quality deck cleaning service. You will be amazed by how new and clean your deck, patio, or fence will look after we are done cleaning it!
Have Your Deck Refinished Every 2-3 Years
Wood decks need regular refinishing to ensure they last a long time. This usually consists of 3 steps:
Power washing – The deck should be thoroughly power washed using high pressure to remove dirt and grime buildup and remove most of the previous deck stain layer.
Sanding the deck – Sanding the deck eliminates surface defects, removes any remaining stain layers, and prepares it to absorb a new lawyer of stain during the refinishing process.
Staining the deck – A new coat of deck stain will revitalize your deck's appearance and help preserve the wood and prevent it from being damaged by water, moisture, and parasites.
However, staining and finishing a deck is not as easy as some homeowners think. It's easy to damage a deck by vigorously power washing it, applying stain to wood that is already rotten, or by staining it before it is completely dry.
Need Help Cleaning Or Maintaining Your Deck?
If you are short on time or would just prefer to relax while your deck is maintained, cleaned, or repaired, Gateway Home Services is here to help. With more than 30 years of experience in every aspect of home construction, repair, and maintenance, our team is here for you in St. Louis. Contact us online or give us a call at (314) 279-8300 to get started today.