---
Pressure Washing & Power Washing Services
2 Locations Serving St. Louis & Kansas City :: Quickly and effectively remove sediment, built-up dirt, mold, mildew, and grime. We will ensure that your home, patio or deck looks clean and beautiful.
You no doubt take pride in your home's appearance, it's landscaping, and your outdoor living spaces. We offer pressure washing services that will not damage your landscaping or external surfaces. The equipment and products we use ensure the most efficient and complete power washing cleaning services.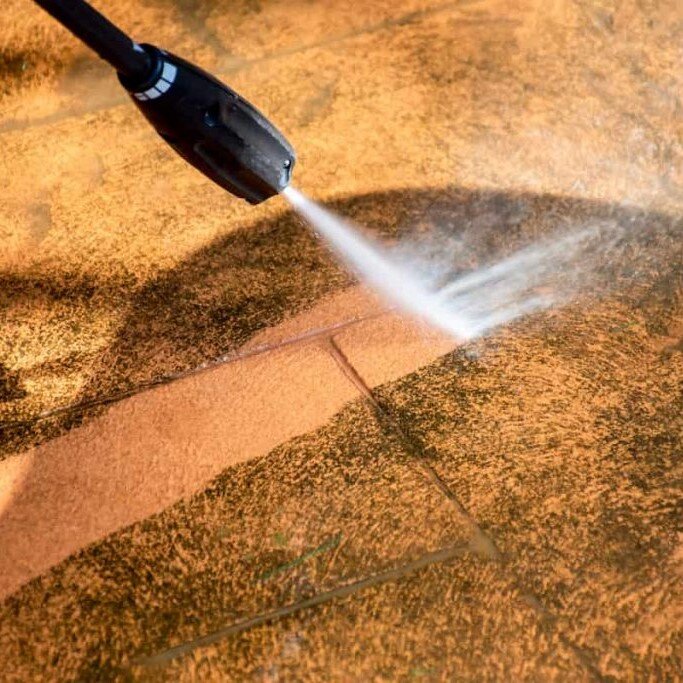 ---
Reasons to Have Your Home Power Washed
Having your home professionally power washed may seem like an extravagance, but in reality, it should be part of your home's maintenance routine. The exterior of your home is continuously exposed to harsh elements. Natural conditions such as wind, sun, dirt, birds, insects, and rain constantly take a beating on your home. These conditions contribute to your home's discoloration, soiling, and damage.
Having your home pressure washed is one of the most effective and efficient ways to keep the exterior of your home clean and safeguarded. Some of the most common reasons for having your home power washed include:
Prevents damage – Moisture can cause serious damage to the exterior of your home. If grime stays on the surface or stains sit for too long, it could permanently damage these surfaces. Mold damages painted surfaces of your home as well as concrete coatings. Mold feeds on paints and finished and therefore removes them. Crevices are especially susceptible to the accumulation of algae, dirt, and grime. Mildew and mold thrive in shaded areas and can grow unchecked, causing serious damage.
Saves money – Maintaining your investment takes a certain amount of money. However, power washing is preventative maintenance. The cost of having your home power washed versus costly repairs will save you money in the long run, perhaps even thousands of dollars. By having your home pressure washed, you safeguard your property's value and keep it looking new.
Primes surfaces – If you want to paint, resurface, or refinish the exterior of your home or another external surface, pressure washing is the best way to prepare and ensure that your existing surface is ready for its makeover. Therefore, power washing removes the dirt and grime, ensuring that the surface is clean and smooth before painting it.
Increases curb appeal – If you are going to sell your home, power washing can make a huge difference in your home's appearance. Power washing helps refresh the exterior and helps a home look new.
Our Pressure Washing Services
Professional power washing services make your home look its best. It also protects your investment. At Gateway Home Services, we power wash the following:
Driveways
Siding
Fences
Patios
Roofs
Any other exterior surface that's safe to power wash
If you have any external area around your home that needs to be cleaned, call us today. We will quickly and effectively remove sediment, built-up dirt, mold, mildew, and grime. We will ensure that your home looks clean and beautiful and is safe from the damage these harmful elements can cause.