---
Gutter Cleaning & Gutter Guards Installation
2 Locations Serving St. Louis & Kansas City :: Licensed & Insured. At Gateway Home Services, we provide gutter cleaning services and gutter shield installation services.
At Gateway Home Services, we provide gutter cleaning services and gutter shield installation services. We guarantee our customers the assurance of a professional job every time.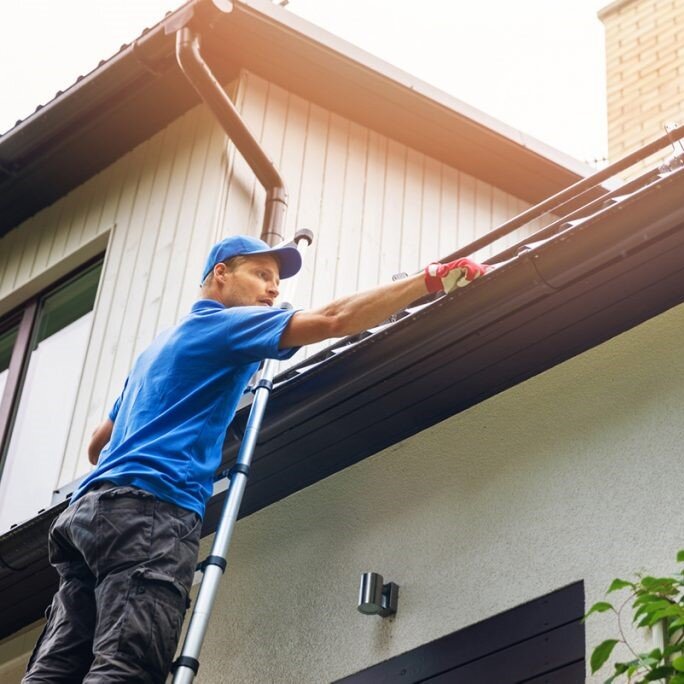 ---
Cleaning your gutters is an essential task to maintain the beauty and value of your home. When gutters become full of leaves and debris, they become heavy and can tear away from the structure of your home. This can lead to fascia and soffit rot. When water overflows, it can seep in behind the gutter and make its way into your home, causing serious water damage.
---
Why should you have your gutters cleaned?
Gutters are designed to collect rainwater from the roof and carry it away from your home's foundation through the downspouts. They can only do this when they are clear of leaves and other debris, which can clog them and cause water to overflow.
When the water has nowhere to go, it will fill up the gutters and eventually overflow onto the foundation. All it takes is one area to be clogged to cause major problems. When left unchecked, these clogs can cause damage to the shingles, roof, exterior, and interior of your home. Routine gutter cleaning can prevent these costly repairs, saving you hundreds, even thousands of dollars.
Routine gutter cleaning helps prevent:
Rotten wood
Foundation damage
Flooded basements
Landscape destruction
Mosquito, termite, and roach infestations
Mold growth
How often should you have them cleaned?
It's obviously not practical to get up on a ladder and check your gutters each week. So how do you ensure your gutters are clean?
Well, it's generally recommended to have your gutters professionally cleaned twice a year, once in the fall and another in the spring. However, several factors can change when and how often you have them cleaned. For instance, if you have many trees around your home and there is a big storm, you will want to make sure that your gutters are clear. Leaves, branches, and other debris may have become dislodged during the storm and made their way into your gutters.
Have gutter guards professionally installed
Having gutter shields installed on your gutters will not eliminate the need for gutter cleaning. However, it will reduce the frequency. There are many different types of gutter guards. From plastic to aluminum, Gateway Home Services will help you determine which types are right for your home and budget.
Contact Gateway Home Services
Call us today to ask about our gutter cleaning services and our gutter shield installation services. Let us help you protect your home and give you peace of mind when dealing with your gutters.